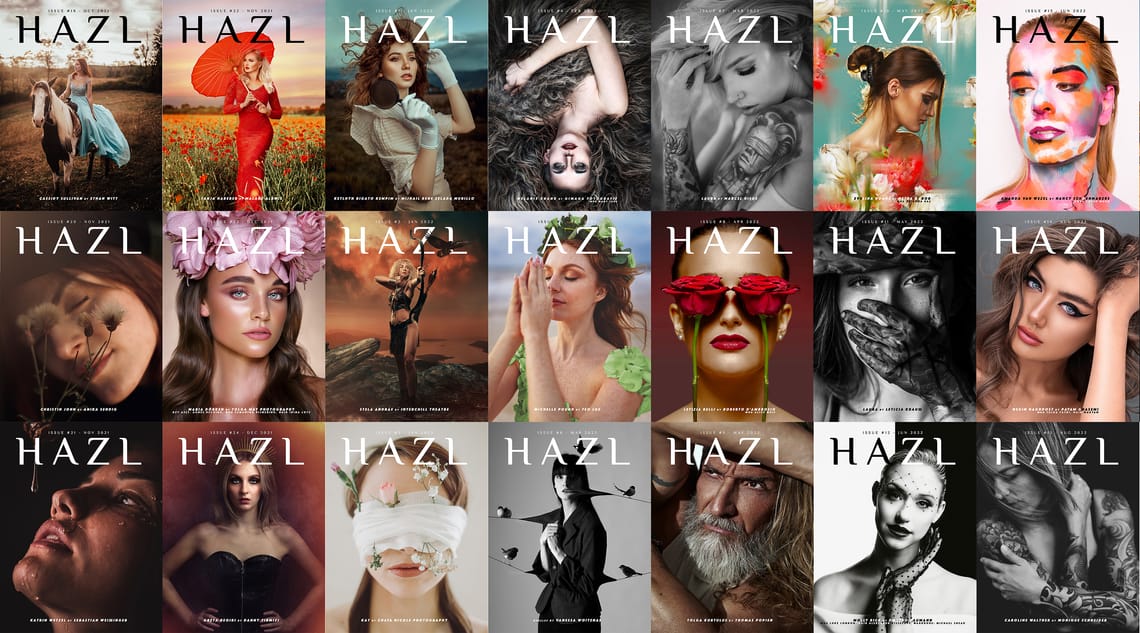 SUBMISSIONS
Invitation to everyone to submit their amazing images in Fashion, Portraits & Beauty
---
Submissions Open: HAZL Magazine Issue 17 & 18 December 2023 - Print + Digital
Submissions Open: HAZL Magazine Webitorials (submit directly on instagram/facebook DM)
---
IMAGE REQUIREMENTS:
1-6 images
Must be exclusive and unpublished*
Should not have any watermark or branding
Format: JPG
Color Profile: sRGB
Dimensions (flexible):

Portrait: 8.5 × 11 inch, 300 dpi (2550 × 3300 px, minimum)
Landscape: 17 × 11 inch, 300 dpi (5100 × 3300 px, minimum)
*exclusive and unpublished means not submitted, accepted or published in another publication/magazine.
---
IMPORTANT NOTES:
Make sure you have permission to publish from all the creatives involved.
Credits will be given to Name & Instagram Username of Model and Photographer, Agency and HMUA
Make sure the creative credits are correct. Credit Correction after publication is chargeable.
Submissions are only considered accepted when we respond back on the email confirming the same.
We are unable to send complimentary copies to our contributors. However, we will email the tearsheets and promote your work heavily on our website and social media.
Only use the email template when sending your submissions.
Submissions not accepted for this issue will be considered for next issues.
---
Send your images via email to hazlmagazine@gmail.com
Use wetransfer, dropbox or google drive folders. Provide a link to these in your email and open up security of the links/folders.
Use subject line "ACCEPTED Selection" if your image was pre-selected on Instagram or Facebook
Use subject line "OPEN Submission" if your image was not pre-selected.
* You must use the below email template to provide all requested information (copy the full email template and add all the information)*
---
EMAIL TEMPLATE
Google Drive/Dropbox link:
Permission for Publication:
I HAVE PERMISSION FROM MY ENTIRE CREATIVE TEAM TO PUBLISH MY IMAGES IN HAZL MAGAZINE.
I own this Photograph, and I own all the rights, including copyright, necessary to submit this Photograph to HAZL Magazine.
I am granting HAZL Magazine the one-time, free of charge, non-exclusive right to use it in the following ways:

to publish in print and online
to publish it on social media.

I consent to indemnify HAZL Magazine against any claim, demand, action, suit, or other proceedings against HAZL Magazine arising out of the use of the photograph and related to any false or inaccurate statement.
Creative Credits:
*required* MODEL: Name, Instagram, Email, Age (to check for underage)
*required* PHOTOGRAPHER: Name or Business Name, Instagram, Email
OTHERS: e.g. hair, mua, stylist, agency - Name, Email and Instagram
LOCATION: (recommended)
---